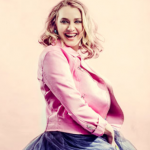 Join actress and comedian Kerry Ipema as she portrays all 4 of our favorite women Carrie, Samantha, Charlotte and Miranda in this 90 minute love-letter and hilarious tribute through six seasons of this mad-cap series. Kerry portrays Carrie, Samantha, Charlotte and Miranda as they eat brunch, banter, argue and swoon over men and Manolos.
Enter to win tickets!
Show: Sunday, November 3, 2019, 2pm
Ipema and co-creator and director T.J Dawe (One Man Star-Wars/One Man Lord of the Rings) bring all of our favorite moments to life. The naked dress, the "post-it note" and the "tantric sex demonstration" all weave their way into this fantastic send-up. Who can forget how the Cosmopolitan drink swept into our lives? Mr. Big may even make an appearance.
One Woman Sex and the City: A Parody on Love, Friendship and Shoes reminds us all of the power of friendship and why this show so firmly remains in our hearts and minds. We "can't help but wonder" what waits in store for YOU at this perfect girls-night out.
OPTIONAL VIP PRE SHOW BRUNCH WITH THE GIRLS
Unleash your inner Carrie Bradshaw and treat yourself to a VIP brunch in the Maryland Theatre Ballroom before the off-Broadway performance of Sex and the City!
Doors open at 12 pm
Tickets to the brunch are $39.00 and includes:
Complimentary Mimosa or Cosmo
Buffet Brunch
Photo Opportunities
Entertainment by DJ Sidekick
Giveaways & Prizes
Additional drinks are available for purchase. And for the ladies – a specialty shopping area!
PS – Don't be afraid to bring your own Mr. Big – men are allowed.